Winners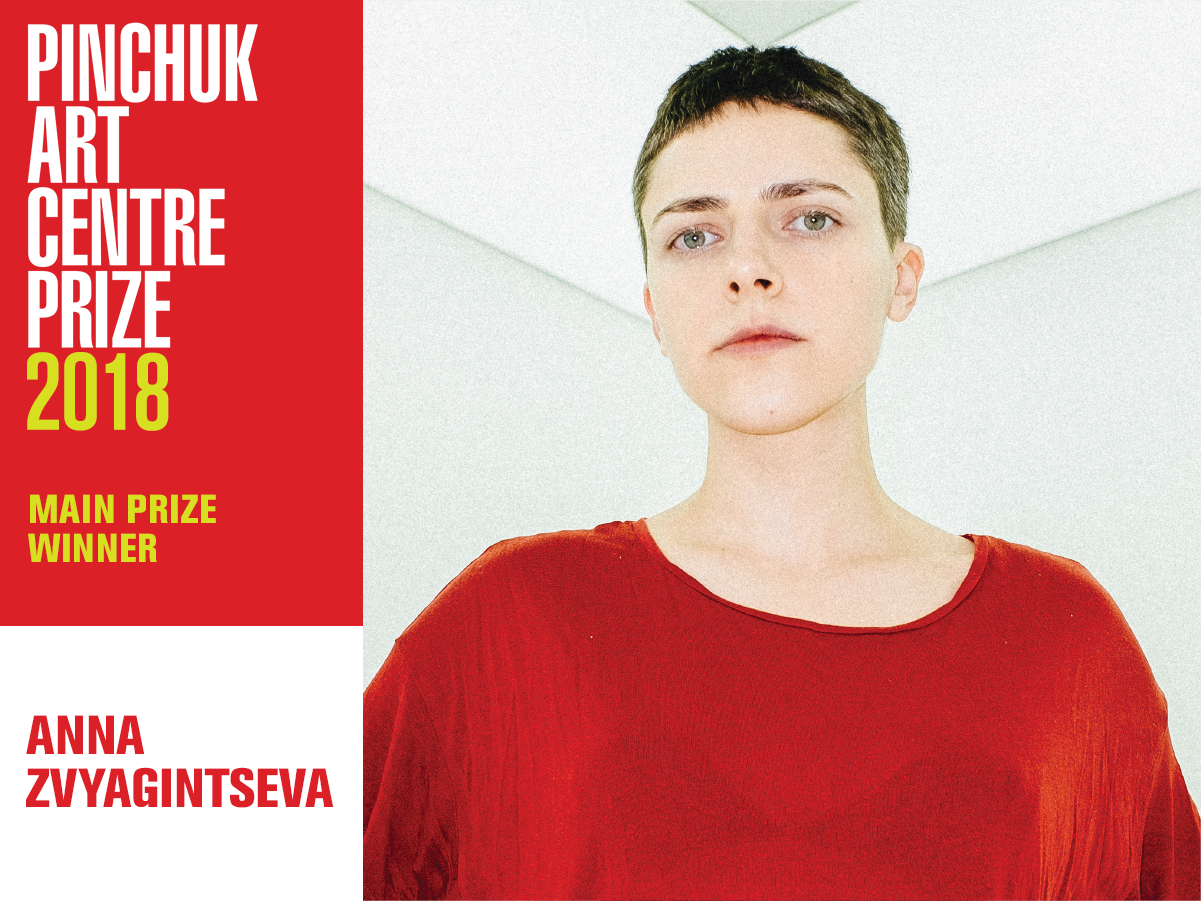 Introducing Anna Zvyagintseva, the winner of the PinchukArtCentre Prize 2018, the jury stated:
"Anna Zvyagintseva captured the attention of the jury through a well-refined and precise formal language. In a very discrete way, her poetics unravel an understated political dimension to the viewer. She defines drawing as a form of open writing that expands into sculpture and space. Her method records the movement of bodies and draws from the everyday, both personal and collective. We recognize her consistent practice and thoughtful artistic potential."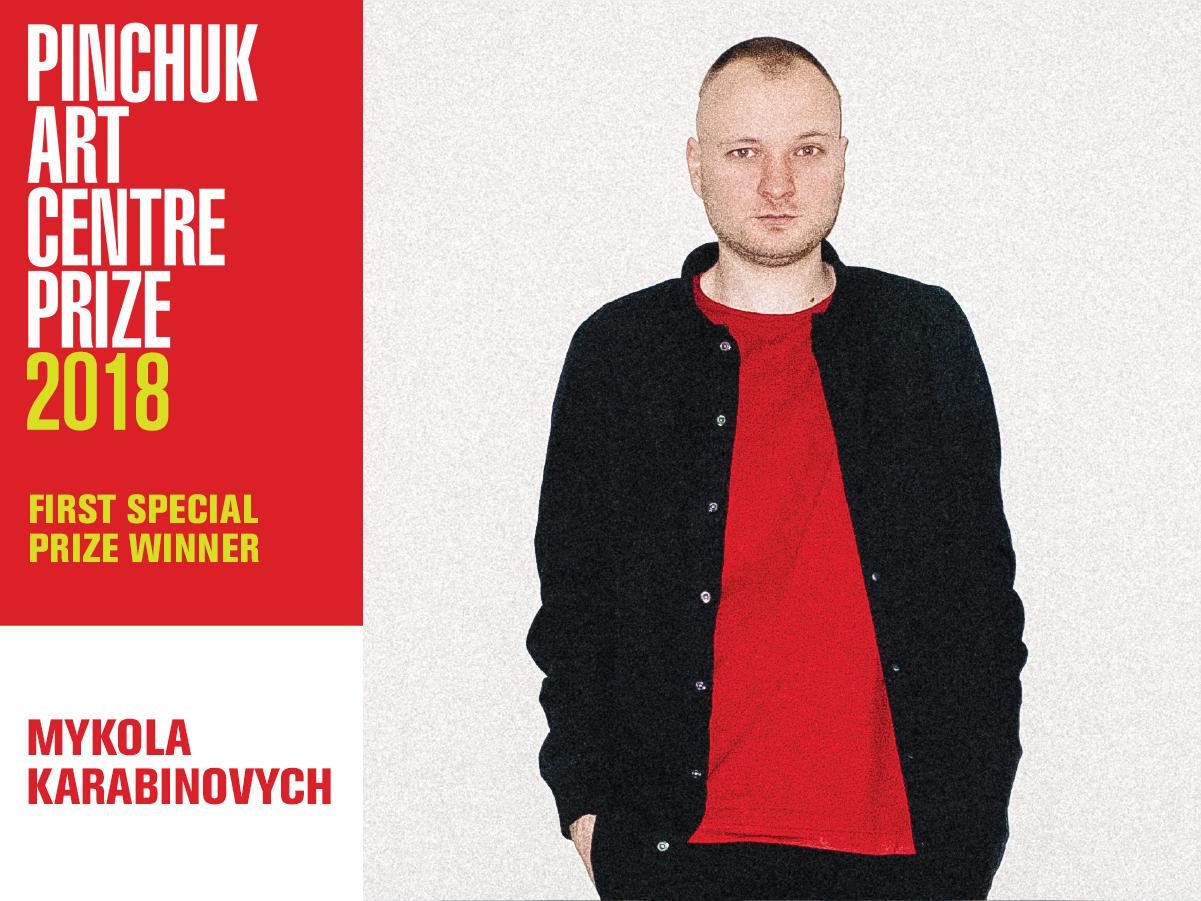 Commenting on works by the first special prize Mykola Karabinovych, the jurors said: "The jury was struck by the outstanding work by Mykola Karabinovych. We recognize its minimal and simple formulation that contradicts the complexity of a historical and yet intimate narrative. It is a dedicated performative gesture turned into a humble transient monument occupying the memory of the repressed, regardless of their ethnicity or nationality."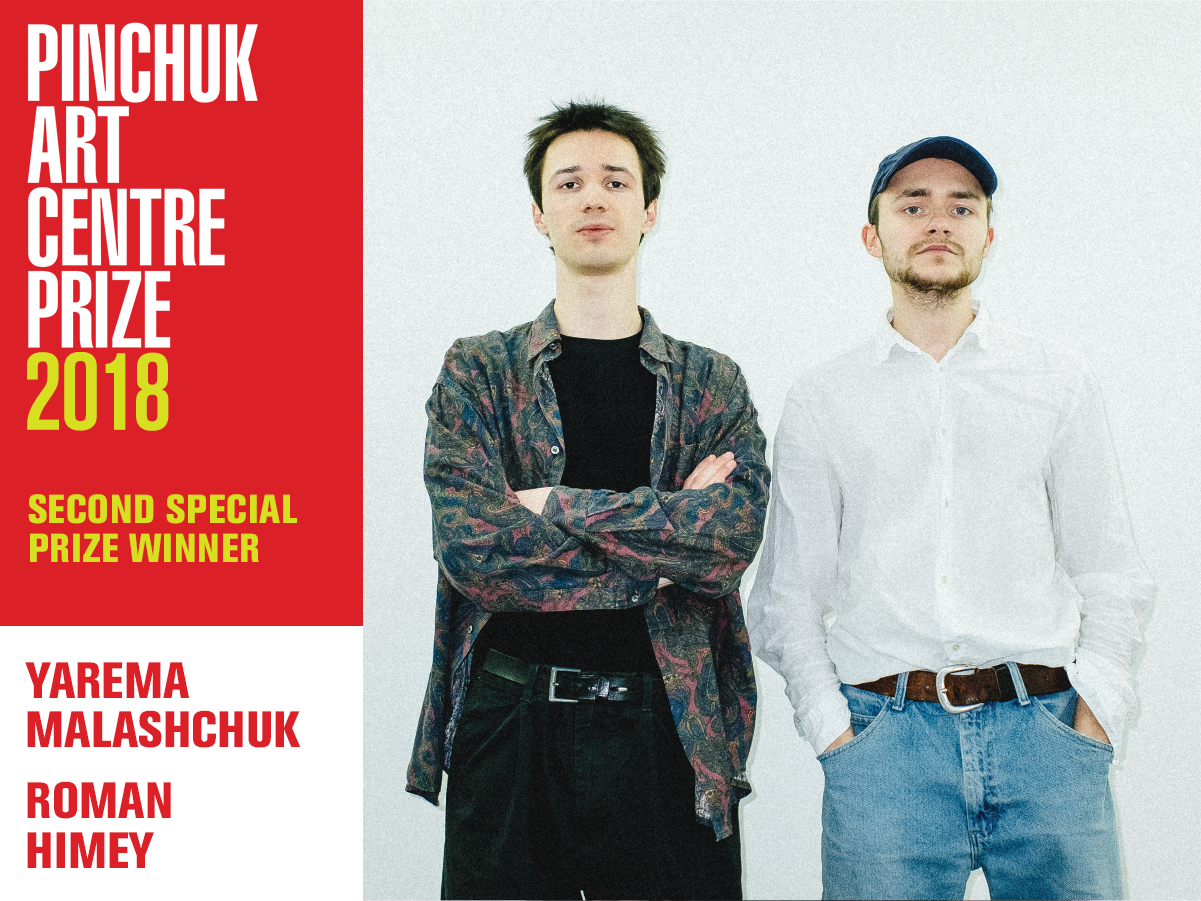 Awarding Yarema Malashchuk and Roman Himey, the second special prize, the jury stated: "We recognize the seductive professional visual language of the film by Yarema Malashchuk and Roman Himey. It captures real people in a daily situation with a particular eye for detail, slowly enticing the viewers into a surprising experience with an unexpected twist that takes them from reality to the threshold of the sublime."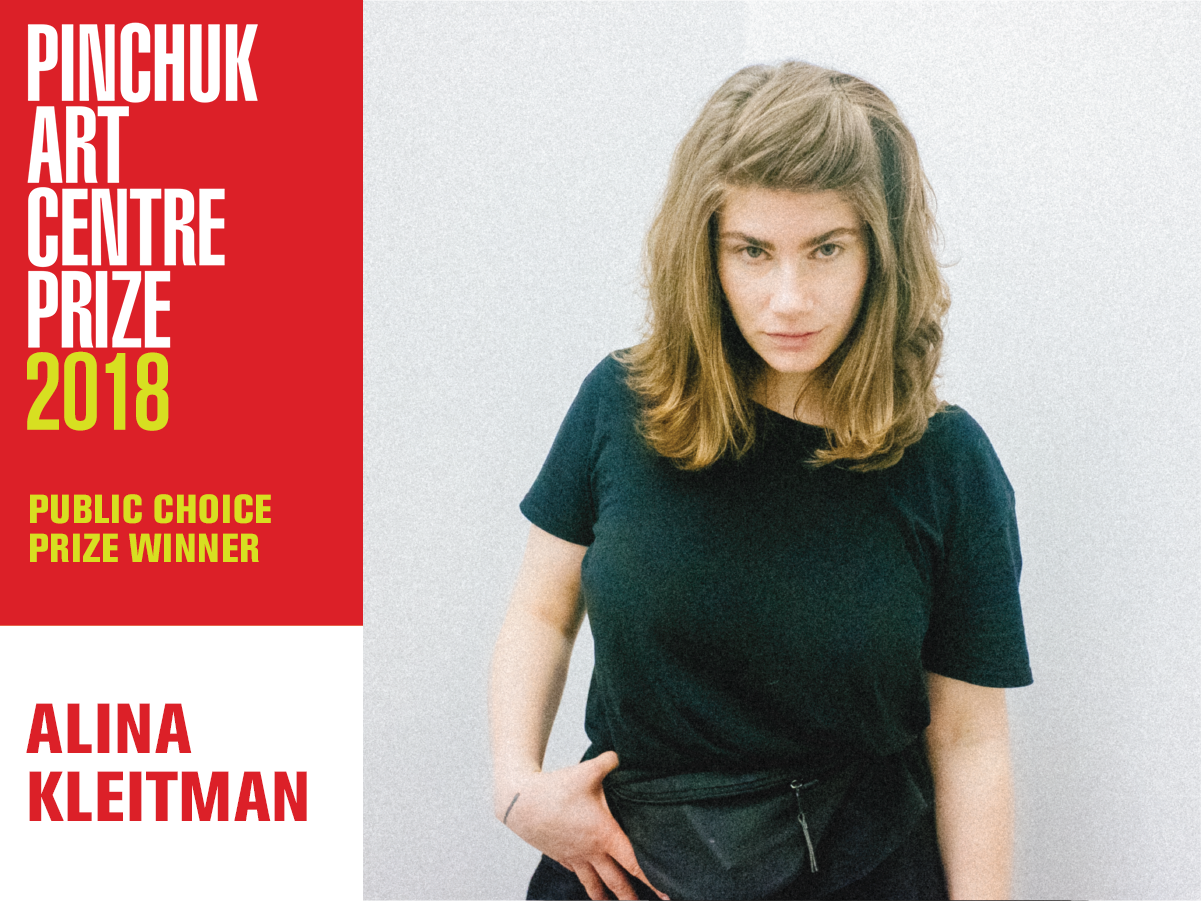 ---
Nominees
Mykhailo Alekseienko (27, Kyiv), Iuliana Golub (27, Kharkiv),
Taras Kamennoi (32, Kharkiv),
Mykola Karabinovych (29, Odessa) – first special prize,
Pavlo Khailo (29, Lugansk/Kyiv),
Alina Kleitman (26, Kharkiv) – public choice prize,
Vitalii Kokhan (30, Sumy/Kharkiv),
Yulia Krivich (29, Dnipro),
Sasha Kurmaz (30, Kyiv),
Larion Lozovyi (29, Kyiv),
Roman Mikhaylov (28, Kharkiv/Kyiv),
Oleg Perkowsky (33, Kamianets-Podilskyi/Lviv),
Sergii Radkevych (30, Lutsk/Lviv),
Yevgen Samborsky (33, Ivano-Frankivsk/Kyiv),
Dmytro Starusiev (32, Makiivka),
Ivan Svitlychnyi (28, Kharkiv/Kyiv),
Kateryna Yermolaeva (32, Donetsk/Kyiv),
Anna Zvyagintseva (30, Dnipro/Kyiv) – main prize,
Yarema Malashchuk (24, Kolomiya/Kyiv) and Roman Himey (25, Kolomiya/Kyiv) – second special prize,
Revkovskiy and Rachinskiy (Daniil Revkovskiy, 24, Kharkiv; Andriy Rachinskiy, 27, Kharkiv)
---
Selection Committee
Andrij Bojarov, artist and independent curator of media art and photography projects;
Tatiana Kochubinska, curator of the Research Platform at the PinchukArtCentre, art historian, researcher;
Ksenia Malykh, art historian, member of the PinchukArtCentre's Research Platform team, co-founder of OK Projects, curator of the visual program of the Closer art center, member of the expert council for contemporary art at the Ministry of Culture of Ukraine;
Tiberiy Szilvashi, artist, curator, lecturer, and essayist;
Yulia Vaganova, art manager, art historian, curator of programs and deputy director on museum and exhibition work of the Mystetskyi Arsenal.
---
Jury
Björn Geldhof
Björn Geldhof is Artistic Director at the PinchukArtCentre (Kyiv). Prior to that he was Artistic and strategic director of Yarat (Baku). He curated numerous group exhibitions such as Fear and Hope, Loss: in Memory of Babi Ya and Fragile State. In his research he focusses mostly on the post-soviet space. This has been presented in, aside of many solo-presentations, large scale group exhibitions such as Borderline (on Ukrainian Art), 300 words of Resistance (on Azerbaijani art) and Suns and Neons above Kazakhstan. Geldhof is since 2009 responsible for the Future Generation Art Prize. He also curated numerous projects internationally including: the Ukrainian National Pavilion at the 56th International Art Exhibition – La Biennale di Venezia; the Future Generation Art Prize exhibitions in Venice in 2011, 2013 and 2017. He worked with among others: Damián Ortega, Olafur Eliasson, Anish Kapoor, Ai Weiwei, Jenny Holzer, Berlinde Debruykere, Tony Oursler, Jake & Dinos Chapman, Carlos Motta, Santiago Sierra, Michelangelo Pistoletto and Oscar Murilllo. Geldhof studied Art history at Katholieke Universiteit of Leuven, Belgium.
Viktor Misiano
Born in Moscow in 1957. From 1980 till 1990 he was a curator of contemporary art at the Pushkin National Museum of Fine Arts in Moscow. From 1992 to 1997 he was the director of the Center for Contemporary Art (CAC), Moscow. He curated the Russian participation in the Istanbul Biennale (1992), the Venice Biennale (1995, 2003), the São Paulo Biennale (2002, 2004), and the Valencia Biennale (2001). He was on the curatorial team for the Manifesta I in Rotterdam in 1996. In 1993 he was a founder of the Moscow Art Magazine (Moscow) and has been its editor-in-chief ever since; in 2003 he was a founder of the Manifesta Journal: Journal of Contemporary Curatorship (Amsterdam) and has been an editor there since 2011. In 2005 he curated the first Central Asia Pavilion at the Venice Biennale. In 2007 he realized large scale exhibition project "Progressive Nostalgia: Art from the Former USSR" in the Centro per l'arte contemporanea, Prato (Italy), the Benaki Museum, Athens, KUMU, Tallinn, and KIASMA, Helsinki. His most recent curatorial project is a large-scale multidisciplinary initiative "The Human Condition" supported by by National Centre for Contemporary Arts, Moscow Museum of Modern Art and Jewish Museum and Tolerance Center (http://thehumancondition.ru/en/). Author of many articles and catalogues, published a book "'Other' and Divers", NLO, Moscow in 2004 and "Five Lectures on Curatorship", AdMarginem Publishing, Moscow in 2014. From October 2010 to 2014 he was a Chairman of the International Foundation Manifesta. Honorary doctorate from the Helsinki University for Art and Design. He lives in Moscow (Russia) and Cisternino (Italy).
Daniel Muzyczuk
Daniel Muzyczuk is Head of the Modern Art Department at Museum Sztuki in Lodz. Curator of the exhibitions Gone to Croatan (with Robert Rumas), MORE IS MORE (with Agnieszka Pindera and Joanna Zielinska), The Melancholy of Resistance (with Agnieszka Pindera), Views 2011, Sounding the Body Electric: Experiments in Art and Music in Eastern Europe 1957 – 1984 (with David Crowley), Notes from the Undeground: Art and Alternative Music in Eastern Europe 1968-1994 (with David Crowley), The Museum of Rhythm (with Natasha Ginwala), among others. Cocurator of the Polish Pavilion of the 55th Venice Biennale (with Agnieszka Pindera). He is the winner (together with Agnieszka Pindera) of the Igor Zabel Competition in 2011.Vice-president of the International Association of Art Critics (AICA), Poland.
Alicia Knock
Working with Christine Macel for the Contemporary art & Prospective Department of the Centre Pompidou, Alicia Knock tries to explore new exhibition & working format, questioning the museum itself through multidisciplinary projects (Harmony Korine, 2017). She is also working at expanding the museum towards West Africa and Central Europe, through both acquisitions and exhibitions. In charge of recent Duchamp Prize exhibitions (Kader Attia, Yto Barrada, Ulla von Brandenburg and Barthélémy Toguo, 2016; "The most foreign country", women artists from the Duchamp Prize, Fondation Fernet Branca, 2017; Maja Bajevic, Joana Hadjithomas and Khalil Joreige, Charlotte Moth, Vittorio Santoro, 2017), she is also involved in the new project space of the Pompidou, Galerie 0, aiming at becoming a laboratory for new practices (Museum On/Off, 2016).
Zhanna Kadyrova
Zhanna Kadyrova was born in 1981 in Brovary, Kyiv oblast. She lives and works in Kyiv. She graduated from the Shevchenko State Arts Secondary School, Sculpture Faculty.
She got such awards as Kazimir Malevich Art Prize, Sergey Kuriokhin Prize for contemporary art (public art) and the Main Prize of the Kyiv Sculpture Project festival (all in 2012), the special prize of the PinchukArtCentre (2011) and the main PinchukArtCentre Priize (2013), as well as the Special prize of the FutureGeneration Art Prize (2014). Her works were on show around the world, including the 55th and the 56th Venice Biennale , Moscow Biennale, Palais de Tokyo in Paris. Kadyrova's art was presented both nationally and internationally, including exhibitions at the National Art Museum of Ukraine, National Museum of Contemporary Art in Poland (2012), the PinchukArtCentre (different years).
Her works have been mounted in public spaces in Kyiv, Perm, Shargorod.
---
Partner Platforms
Art-platform "TU!", Mariupol
ArtSvit gallery, Dnipro
Bunkermuz, Ternopil
Center for Contemporary Art "Bunker", Chernivtsi
Center for Contemporary Art "Yermilov Centre", Kharkiv
CSM / Foundation Center for Contemporary Art, Kyiv
Dzyga Art Association, Lviv
International land art symposium "MOGRITSA", Sumy
Ivano-Frankivsk Centre for Contemporary Art, Ivano-Frankivsk
Jump Art Gallery, Poltava
Kharkiv City Gallery, Kharkiv
Kherson Museum of Modern Art, Kherson
KULTURA MEDIALNA, Dnipro
Laboratory of Actual Creativity, Vinnytsia
Odessa Museum of Modern Art, Odessa
OK Projects, Kyiv
Residence "Sorry, we have no rooms available", Uzhgorod
---
Photo
---
Video
---
Press about PinchukArtCentre Prize 2018